I woke up around 8 am and showered and dressed. I had been annoyed yesterday as although I'd bought the full WEC update for the app on my phone and iPad, because the idiots at O2 have no arrangement in place with any providers in France, I couldn't get anything more than rubbish 3G on my phone, which meant that other than being just about able to get the timing (eventually, after many attempts) I couldn't access the live stream at all. Before heading down to meet James and Tony for the trip up the road to the bar for breakfast, I set about venting my spleen on the internet to O2, which turned out to be a completely pointless exercise. This was an issue that would continue to bug me throughout the rest of the event and for several weeks afterwards. I met a complete brick wall - all I was constantly told was that 'We don't offer 4G to our customers abroad'. No explanation was ever given about why James, paying about a fifth of what I was could get 4G and a better service from his provider. Even now as I write this many moths later, there seems no hope of having 4G in 2018 and I cannot believe that O2 doesn't provide 4G to any of it's customers abroad. I've reached the point (having had exactly the same problem last year) where this is becoming a matter of principle for me with O2. I'm tired of paying through the nose for a thoroughly inadequate service! Rant over.
I joined James and Tony outside the hotel ready for the trip up to the bar. We were of course anticipating Allon's arrival this morning (he was being chauffered again by Sean) and James said he would let Monsieur know to leave his room key with us for him. It was at this point that we became aware of a problem - there was no room for him! It seemed that when James cancelled Toby's room back in February, Monsieur had mistakenly cancelled Allon's room as well....We left for the bar leaving him to ponder the problem and try and find a solution for us. We remained hopeful but it also enabled me to indulge in some fun and games with Allon who was already off the ferry and well on route. I initially asked him if Sean had a spare tent and if he had, Monsieur was perfectly happy to allow him to pitch it on the back lawn of the hotel. This was followed by a suggestion that he could bunk down with one of the Tourists whom were staying as usual at Le Grand LucÚ. Of course, Allon didn't believe any of this but did realise that there was some kind of problem. After an enjoyable breakfast we headed back to the hotel to find that Monsieur had made a room available for Allon (unfortunately , someone else was going to be disappointed). It was good that we had such an excellent relationship with our hosts, otherwise Allon could well have been searching for a room elsewhere, or kipping down with one of us!
We gave Allon half an hour or so to get settled in and have a shower before heading up to Auchan to enable him to get some supplies (in a very small trolley!). As always on Thursday, there was no rush to get to the circuit, although there was Porsche Carrera Cup practice and qualifying as well as the first of the two "Road to Le Mans" races at 5.30. We set off for the circuit at 2.30 and when we arrived I went off with Alan to the ACO stall behind the grandstands to sign him in. After another wander around the stalls we settled down in T17 to watch the Road to Le Mans race, again in blistering sunshine.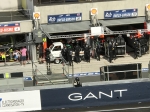 We were going to watch the whole of the second qualifying from T17 as well, however an accident necessitated some barrier repairs and a delayed restart to the session so at 6.40 we took the opportunity to leave the main circuit to take the car out to Arnage to watch the remainder of qualifying from there.