So the members of Team DoT were a decidedly sombre little band as we left the Espace Club around 1 am. As we didn't have T17 tickets this year we headed straight back to the cars and out to Indianapolis/Arnage a little earlier than usual. When we got back to the cars we all donned our night 'attire' - jumpers and coats rather than pyjamas, I should add! I can't honestly say it was cold, not in comparison anyway with the very cold nights of 2008 and 2011, however having had such a warm day (and a very hot week beforehand) the slight nip in the air was felt a little more keenly as a consequence.
I'd forgotten to mention that Allon had headed back to the car earlier for a little shuteye and I couldn't resist a swift shot of the sleeping beauty.....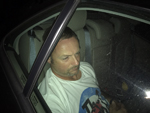 We arrived at Arnage around 1.40 am and thanks to our parking tickets we managed to get into the first car park. From here it was thankfully just a short walk back into the circuit in to the Arnage enclosure where I took a few videos.
It was then on to the viewing area at Indianapolis where we set up camp with our chairs for the 3 hour run to dawn. Although there was nothing really left to engage us in the top class, there was still plenty of good racing going on in LMP2 and particularly in GTEPro where Aston, Corvette and Ford were still having a ding-dong battle.
Over the next couple of hours I kept myself busy with my camera, taking a fair few photographs, all the time in the knowledge that the vast majority of them were certain to be consigned to my computer's recycle bin once I had the chance to look at them when I got home (and I was right!). Although I was by now feeling very tired, I resisted the urge to get too settled in my chair as I knew that I would almost certainly fall asleep if I did. Allon had returned to the car for some more shuteye while James, Tony and I braved it out until dawn.