My build-up to Le Mans 2012 was generally unremarkable. I had agreed with James several months before that although our 2011 trip had been wholly excellent, not arriving in Le Mans until the Tuesday had seemed to cut the Le Mans week rather short - certainly in comparison to 2010, when we arrived on the Sunday afternoon. It was another one of those seemingly strange, but ultimately entirely logical coincidences that we both felt the same way about this, and so it was that we decided to revert to the plan for a longer trip in 2012. So James got on and booked the ferry for a Saturday night crossing, thus making the 2011 my earliest start to a Le Mans trip - my 27th Le Mans start....
As always, I was really grateful to my long-suffering wife Jayne for putting up with me disappearing for such a long time this year and leaving her at home with the cat for company! It's a selfish thing to say, but I felt I deserved my Le Mans break this year. I always feel that way of course, but this last year had been especially hard at work, with absolutely no prospect at all of getting any better (in fact, the opposite proved to be true as soon as I returned to work after Le Mans). So it really was a case of making the most of it this year.
I'd taken the Friday off work, thankfully having managed to clear my desk over the previous two days after the Diamond Jubilee holiday and a difficult office move, so I was able to do most of my packing on the Friday. I'd added various extras to my ever-growing list of things to take with me, including thermal long-johns (in case the race night turned out to be as cold as last year!), some calvados and a hip-flask (for much the same reason), and my new IS 55-250 lens (to replace the zoom that played up on me so badly last year).
With everything loaded up, I said my goodbyes and son (another James) drove me to the ferry terminal at Portsmouth. We arrived a bit early, but so did James, just after 8.30. We had plenty of time on our hands as the LDLines 'Norman Voyager' would be setting sail for Le Havre at 11 pm.
After catching up on what we'd being doing in our lives since last September at Silverstone, we were directed from the terminal and went straight onto the boat, which was clearly far from full. We were both reasonably keen to get a decent night's sleep (bearing in mind it was already well past midnight, French-time), so we dined in style on half of lager and a sausage roll and then retired to bed!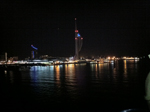 The 'Norman Voyager' was an impressively large ferry (with the smallest on-board shop I've ever seen!), and she gave us a mill-pond like crossing in our separate (and huge) 4-berth cabins. I was glad we hadn't travelled the night before when it had been blowing a gale on the south coast - I'd even bought some sea-sickness tablets for the first time ever - just in case! The Le Mans 2012 trip was under way......