So, the race was over and the countdown timer had been reset already. Despite the lack of sleep on Saturday night and Sunday morning I was up and sorted by about 8 am and started the task of packing the bags ready for the journey home.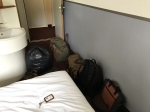 After saying farewell to Allon (who was again travelling with Sean), James, Toby and I set off up to Auchan for a bit of breakfast and then some shopping (including cherries for Jayne), meeting with James F to buy our gifts for Madame and Monsieur from the hotel. After returning and saying farewell to our hosts, we loaded up the cars. Toby set off for Le Havre for his ferry home.
We had a pretty quiet journey to Caen, stopping as we have for several years now for omelettes, frites and cider (my one alcoholic temptation each year!) at Le Goeland before heading in to the ferry terminal. James and I got in really quickly and we thought we were quids in for getting on the boat early, but then we were left in the 'holding' queues next to the ferry for about half an hour. As always the boat was jam-packed but we got on OK.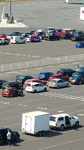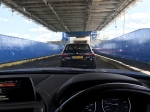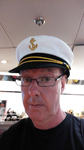 The crossing was.... well like any other crossing. Decent weather, average food. We watched a little of the football (I haven't mentioned the World Cup at all yet, have I?!), and docked at 9.20 pm. Unfortunately this was one of those years where progress to Border Control was paint-dryingly slow and we got through and out of the terminal at 10.30, arriving home at 11.30.
And that's about it folks.....