We all left for the circuit again at 8.40 and parked up in Parking Blanc. Around this time I checked up on James F and Ramona. It turned out that James had been at Arnage and had stayed there until about 7 am, so well after dawn and then they drove on to Mulsanne, only leaving there at about 10 am, by which time we had been back to the hotel, freshened up and were already back at the circuit and sitting in our seats in T17 again.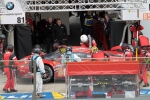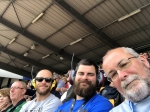 As far as the Sunday goes, the routine was much the same as normal. After a night with no sleep and in the warmth of the grandstand, staying awake became a seriously difficult task for all of us. Soon enough Ramona and James F joined us for the run to the finish (punctuated with a quick walk down to the Ford Chicane to look at some older Porsches) and a popular Toyota win for Alonso, Buemi and Nakajima. The Rebellions finished 3rd and 4th, albeit 12 and 13 laps down. We thought that G-Drive had won LMP2 but they (and TDS) were subsequently disqualified, handing the win instead to Signatech (who were two laps down on them at the finish). In GTEPro the very popular 'Pink Pig' Porsche took the win with the #91 Rothmans car finishing second. The #77 Dempsey Proton Racing Porsche won GTEAm.
Following the race, we made our normal quick dash back to the car park for a slower journey back to the hotel than in previous years, but we were still there by 3.43. It was a relief to get back for me as having had no sleep and with my reputation for falling asleep in the car within 5 minutes of setting off from the circuit after the race, I was a bit worried about that journey, but it all turned out fine.
We agreed to eat as early and as close by as possible, so went to Del Arte at 6 pm. By that time both Toby and James were spark out in their rooms, so I left them to it! I heard nothing more from Toby until after 7 am on Monday morning but James surfaced with a message at about 8.30, by which time the rest of us had eaten and were back at the hotel for a well-deserved night's sleep....