So we had been at Le Mans the the best part of three days now and were yet to see a car moving under it's own power, but all that would change today. Four hours of free practice plus the first two hours of qualifying was in store from 4 pm.
A decent night's sleep saw me wake fairly early as usual and by 7.40 I was up and about for a call home to Jayne and then a shower. I spent a bit of time catching up with the gossip on Ten Tenths and listening to a preview on Radio Le Mans. James and I agreed that we would go up to the bar for coffee at 10.15. I then spent a bit of time organising my camera and rucksack and the bits and pieces that I would be taking to the circuit with me, to save a bit of time later.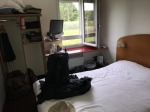 As I'd heard nothing from James F, I assumed he was 'sleeping in' and so James and I drove up to the bar for a breakfast of coffee but sadly no croissants as the bakery was closed. Just before 10 I received a text from James F saying that my 'neighbours' were still in the process of getting out of their 'pits' and therefore wouldn't be coming up to the bar and they were going to head to Auchan for some shopping and to top up on petrol as unlike me they didn't get around to it yesterday. I let him know that we were already at the bar and had decided to head into the circuit reasonably early, about 12-ish. Although James F offered to drive us all again, I'd already discussed this with James and had decided that I wanted to drive in today and tomorrow, if for no other reason than it would be good practice for race day. I knew the route well enough of course, having been driven as James F's passenger many times since 2010 but I was also quite keen to see if I could navigate between Parking Blanc and Arnage and Mulsanne, as we were bound to go to at least one of the spectator areas at the back of the circuit tonight.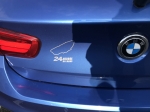 After having coffee, we met up back at the hotel with James F and Ramona and loaded the cars up for the trip to the circuit. James F had given me my and James' entry and grandstand tickets as well as the parking tickets for Parking Blanc and parking at Mulsanne/Arnage. We were soon ready to set off for the circuit and I had an easy journey in following James F on that very familiar route which led us straight to the road behind the grandstands. The roads weren't busy at all and, at this stage, the car park only had a scattering of cars in it. We hadn't fared quite so well by the ACO this year and our spaces were quite a way down the field in Row X and I parked up in place 5.
We collected our gear together and headed in to the circuit, through the by now expected security presence at the gate and had a mooch around the various shops that were open in the back of the grandstands. We knew we wouldn't be able to get into the grandstand for a while as James F and I needed to sign in as ACO members and get our wristbands, plus guest wristbands for James and Ramona. So to kill some time we decided to sit in the Lagache grandstand (aka T19) next door to watch the teams getting prepped in the pits across the track. It was now about 1.50 pm and there was no on-track action today until the practice session at 4 pm but there was supposed to be a pitwalk going on until 3 pm although there seemed to be very few people wandering up and down the pitlane.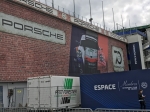 I can't remember exactly when we left Lagache to make our way round to the small ACO 'office' in front of the entrance to T17 and T18, but it was still shut when we got there. But our patience was rewarded when it opened and we were among the first dozen or so to go in and register. We also had the advantage this year of not standing waiting in blistering heat like last year! I registered and signed James in, delighted at not having to pay anything for him (as is normally the case). Despite this all going very efficiently, predictably the ACO staff at the entrance to the grandstands seemed disinclined to get a move on and open the doors at 3 pm - in fact, we waited there for another 10 minutes or so before being allowed in. But at least we had the Porsche 'retro' signage at the back of the stand to look at! From there it was in to buy some baguettes for lunch and then to go and check out our seats. After last year's 'change is as good as a rest' in Raccordement, we were back in Row A of Durand (T17) in the seats which had become familiar to me since 2011. We were joined for a while by our old friend Eric (Batmobile on Ten Tenths) who unusually we hadn't seen on Sunday or Monday due to his painful lumbago. Thankfully he was now feeling much better. So it was now the opportunity to relax and take in the scene in the very pleasant sunshine and get ready for the cars to emerge at 4 pm.
And emerge they did, bang on time. It's a great moment for the spectators who are at the circuit early in the week and I'm sure it must be something of a relief for the teams and drivers as well to finally get down to business. We stayed in the grandstand for the duration of the four hour free practice. As always, I can't resist the temptation to take photographs of the cars but suffer the same problem in the grandstands on the outside of the pit straight in that the debris fencing is impossibly intrusive. You'll note (if you haven't noted in previous years) that I have a tendency to wait for cars that are overtaking others along the straight as the overtaking car moves over to the right of the track which gives me a brief chance to shoot it without the fencing in the way. I tend to get one or two acceptable shots, but the reality is that I rarely expect anything special! Regrettably, the shots that follow are a fairly motley bunch.....
And finally my videos from this part of Wednesday.