LE MANS 2017 - AYSE'S DIARY
This year I plan to put up a 'daily diary' entry (I guess a 'Blog' of sorts) while I'm in France. It's not intended to replace my annual 'story', but it'll give me the chance (if nothing else) to record a few reminders for myself, together with the occasional photo, with luck!
Sunday 28th May
OK, time to start the diary. A little early perhaps, but you have to start somewhere.... It's now less than a fortnight until I leave for France. In two weeks time I anticipate that James and I will be setting off from our overnight stop at Alenšon for the relatively short drive to our Le Mans 'home' for the next eight nights. I've just started going over my 'checklist' this morning. As I recommend in my advice to 'first-timers', which I see now I created 15 years ago - time for an update! - it's essential for me to make sure that I don't leave anything important at home. It's a bank holiday weekend of course here in the UK so I get an extra day tomorrow which, for the first time in the last three, I'm not going to be working on. Next weekend sees the 'Test Day' and I'll be expecting to get the test day times up here on the site before I leave for France.

Saturday 3rd June
So.... A week to go. In fact, in a week's time as I write this, I'll be four hours into my crossing from Portsmouth to Caen with about an hour and three quarters to go to our arrival in France. Just four days of work next week, a day of calm and packing and the Friday and I'll be good to go. Of course, some of my Ten Tenths pals are already at Le Mans ready for the two test sessions tomorrow. I hope to have the results of those posted in the next day or two. It's getting very close......

Oh, and my new ACO membership card arrived on Friday!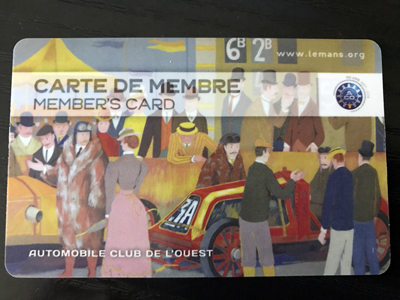 Sunday 4th June
Well, that was pretty exciting, wasn't it? Dominance for Toyota - and very fast - and Corvette and Porsche also right back in the game in GTEPro, with Ford either very slow or determined not to show anyone anything. And if you want to do LMP2, buy an Oreca!
Atrocious weather today (and particularly tonight) with rain and gales on the South coast. Seems to have quietened down a little bit for the moment. Let's hope we're getting all the nasty stuff out of the way ready for a beautiful week in France. Five days to go....
Thursday 8th June
For me this is one of the very best days of the year. Around 5 pm this afternoon I left work in the knowledge that not only will I not be returning until 27th June, but I get to go to Le Mans during those 18 days of holiday. Bliss.....
Saturday 10th June
Did you ever wake up after a great dream in which Le Mans had come around early already? I had that dream last night, but when I woke up - it had! Silly really, but it does seem to have come around incredibly quickly this year. So today's the day. I'll be heading off to Pompey to rendezvous with James around 1 pm for the journey over to France. I'm pretty much all packed now, so hopefully a quiet few hours this morning with my wonderful wife who puts up with this with such love and good grace every year and then it will be time to pop over for the 85th running of the World's Greatest Motor Race..... To everyone who is going and to all my friends who I will see again over the next few days, take it easy, drive carefully and have a great time.
Sunday 11th June
Well, after some traffic woes for James en route to Portsmouth we crossed to France on a mill pond of a Channel and then had an easy journey down to stop overnight in Alenĉon. It was a warm night, quite the opposite to last year, although I haven't slept all that well. It's just before 7 here. We'll be off to drive the short journey to Le Mans in a couple of hours.
It's been a pretty warm day in Le Mans, with a high of around 32 degrees. I even had to break out my shorts, which those who know me will be aware is a fairly unusual event. James and I enjoyed our croques madames on arrival in the Place and then met up with Eric (batmobile on Tenths) to watch the cars arriving for scrutineering. After the first Pizza Marocco of the week, we retired to get a reasonably early night ready for another warm day in the town tomorrow.
Monday 12th June
That was a great day. Beautiful weather in Le Mans for day 2 of scrutineering. We had a smashing time watching some beautiful cars go through. Highlights? The GTEPro works Porsches. I can't say I've ever been a massive Porsche fan, but those cars really do look the business. And great fun watching the Toyota team having their traditional team photos taken. Particularly Kamui Kobayashi who seemed to be having terrific fun going around the photograph area, videoing the spectators and signing countless autographs, all the while with a massive smile on his face. He wasn't doing it because he'd been told to or because he thought he should, he was really having fun. Great to see.
A restful day tomorrow before the action starts on track on Wednesday. We will certainly do a lap of the track and then make up our minds what to do after that. So far, really very good indeed.
Tuesday 13th June
Another excellent day. Fabulous weather.... We drove around the circuit today and checked out Indianapolis before returning to wander the village (mostly still setting up) and spent some time in the Pits Grandstand (T34). We then went out and checked out our seats in the grandstand at the Ford Chicane (whatever they call it these days) and walked the track down to and through most of the Porsche Curves. It was a warm walk (to say the least), but terrific fun to be walking on the 'hallowed ground'. Tony joined us later in the afternoon.
Wednesday 14th June
My, was that a hot one! We ended up watching the whole of the free practice 4 hours from T17 as it was just too hot to wander around. We then made the trip out to Mulsanne Corner for the fist qualifying. Sitting there until midnight in t-shirt and shorts. Even when we got back to the hotel just after 1 am, it was still 21 degrees, having got up to 32 during the day.
Thursday 15th June
Our little band was joined by Allon and we enjoyed qualifying initially in T17 and then had a great time out at Arnage. It was another very hot day although the late evening was mercifully a little cooler. And we all had that astonishing lap by Kobayashi to marvel at and say - 'I was there.....'.
Friday 16h June
The final day of rest before the race. After a pleasant trip to the Classic British Welcome we went into the circuit for a chat with Paul Truswell of Radio Le Mans before a good evening meal and an early night to stock up on sleep!