LATEST NEWS
03.03.19 - I've just posted the full entry list with the final entries announced by the ACO on 1st March. As always, there are one or two surprises, usually the ones relegated to the reserve list!

On the subject of my 'story', progress has been a lot slower than I anticipated - you could well be reading it on the way to Le Mans this year!
29.01.19 - It has been a while since I posted here, partly due to post Le Mans 'malaise' and partly indolence, however I am still working on the 2018 Story which I hope to have finished before the end of February - so pretty much on time - my time!
A few months back I posted about trying to obtain race tickets from some of my early years at Le Mans. I eventually succeeded in that quest and have now revitalised my old 'Tickets' page with all of the tickets I now possess. That's not far short of 100 tickets. Use the animated gif below if you want to take a look.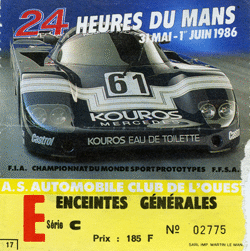 If you've appreciated anything here, why not let me know by adding an entry in my guestbook?