LATEST NEWS
04.0818 - I posted a while back that I had mislaid some of my Le Mans tickets. I've now managed to get five of the years. If anyone has tickets from the 1990 race, I'd be very interested to hear from you.
22.06.18 - Qualifying, grid line-up, warm-up times and (updated) race result are now posted. You'll find them on the 2018 index page - see button above. As I don't have the time to do it this year, I've posted the details from the ACO rather than preparing my own versions which is hugely time-consuming. Don't forget to click the back button to come back! I'll soon be starting with my 2018 Le Mans Story, but as always, don't hold your breath!
20.06.18 - As always, it's astonishing how quickly that passed by. I got home about 11.30 on Monday night and spent yesterday wandering around in a sleep-deprived daze... The post-Le Mans 'malaise' has definitely set in. Fortunately, we have Silverstone WEC in just over 9 weeks to look forward to. I guess my 33rd Le Mans didn't see the most exciting race I've experienced, but I enjoyed my 10 days immensely, particularly the build-up in the preceeding week with my younger son who was making his Le Mans debut. It was great fun to have him with me (and enjoying it so much) and to be joined by his elder brother on the Friday. Many thanks as always to my pal James F for organising the tickets and accommodation. It was great to meet a lot of old friends from Ten Tenths (and a shame not to see Pascal this year - I hope Francoise is recovering well). Here's to Silverstone and to Le Mans 2019.....
09.06.18 - Well, as I write this, I'm about 2 hours away from leaving to get the ferry. For those travelling to the World's Greatest Motor Race, have a good journey, stay safe in France and have a wonderful time!
03.06.18 - Test Day times.

22.05.18 - On checking through some of my old Le Mans memorabilia, I discovered that I have mislaid some of my old enceintes generals (entry tickets). I am missing 1986, 1987, 1988, 1989, 1990 and 1992. If anyone has any of these tickets and would be prepared to part with them, perhaps they could let me know? PS. I'm delighted to say that I've now acquired 1987, 1989 and 1992 tickets. Can anyone help with the other 3 years? I'm prepared to pay a modest 'fee'?
13.05.18 - The timetable for race week (and test day) is now available.

12.05.18 - I've adjusted the downloadable version of the Scrutineering Schedule so that it is now in portrait format and will fit on two sides of a sheet of A4. I print it on glossy photo paper to go in my camera rucksack. (I've also amended the error for car #6 - thanks John!).
09.05.18 - Pits Allocations and Scrutineering Schedule now available.

02.05.18 - OK. It's finally done. My 'story' of the 2017 Le Mans trip can be revealed at last. Click on the gif below to go to page 1. Although much of the photography is as suspect as usual, there's also quite a lot of video snippets this year. Remember to view them in HD. I hope you enjoy it as much as I did creating it.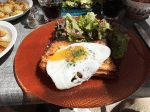 If you've appreciated anything here, why not let me know by adding an entry in my guestbook?