Welcome!
Hello all, welcome to the website of a self-confessed Le Mans addict! - I hope you find something of interest while you're here.
I'm now celebrating 17 years on the internet - having started my website in February 2001.
Please sign my guestbook before you go!
LATEST NEWS
29.01.19 - It has been a while since I posted here, partly due to post Le Mans 'malaise' and partly indolence, however I am still working on the 2018 Story which I hope to have finished before the end of February - so pretty much on time - my time!
A few months back I posted about trying to obtain race tickets from some of my early years at Le Mans. I eventually succeeded in that quest and have now revitalised my old 'Tickets' page with all of the tickets I now possess. That's not far short of 100 tickets. Use the animated gif below if you want to take a look.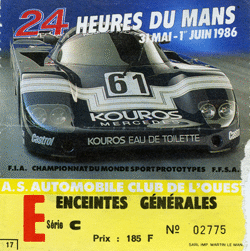 If you've appreciated anything here, why not let me know by adding an entry in my guestbook?

Since February 2001 - 17 years! - Thank you for your support!