LATEST NEWS
19.06.19 - Links to all qualifying times, warm-up times and grid now added.

19.06.19 - I've now updated my 'Tickets' page (see below) for this year's tickets.

18.06.19 - So, back home again from Le Mans - all over for another year. I had another splendid trip in excellent company which I'll report on in my story in due course, hopefully a little more quickly than for last year's story!
Full race results (as amended and issued by the ACO) are here:-

07.06.19 - Final message on here for the time being as I head off to France early tomorrow morning. For everyone who is going, have a safe journey and enjoy yourselves! For those who are not, I hope you find a way to watch the race and why not plan for a trip in 2020!
02.06.19 - Test Day times now posted.

26.05.19 - James Winslow in for injured Roussel at Inter Europol.
23.05.19 - Le Mans timetable for the race week (and Test Day) now up.

20.05.19 - Right, having got the story done, time for some more 'housekeeping'. The entry list has now been pretty much finally updated. I have also now put up the scrutineering schedule and the pit allocations.



19.05.19 - Finally, my Story of Le Mans 2018 is done! It's been a heck of a rush job getting it done, after 49 weeks, but here it is.... Same set up as in previous years. If you spot any broken links, please let me know.
29.01.19 - A few months back I posted about trying to obtain race tickets from some of my early years at Le Mans. I eventually succeeded in that quest and have now revitalised my old 'Tickets' page with all of the tickets I now possess. That's not far short of 100 tickets. Use the animated gif below if you want to take a look.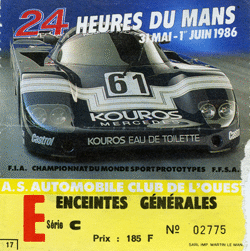 If you've appreciated anything here, why not let me know by adding an entry in my guestbook?